Snapchat's History: Evolution Of Snapchat And Timeline (2019)
Ever wonder what Snapchat looked like when it first launched in a dorm room back in 2011?
As you've probably heard, once something is on the internet, it's on the internet forever.
With a bit of digging, we found what the original Snapchat website looked like, what the app first looked like, and even the very first people to ever leave an app store review for the now billion dollar tech giant.
This post will outline Snapchat's history and will give you a timeline of important events throughout the company's history.
Also, you'll get an exclusive look at what Snapchat's app and website initially looked like when the company first launched in 2011.
What Snapchat.com's website currently looks like in 2019:
What Snapchat.com's website originally looked like in 2011:
What Snapchat looks like in the App store today, in 2019: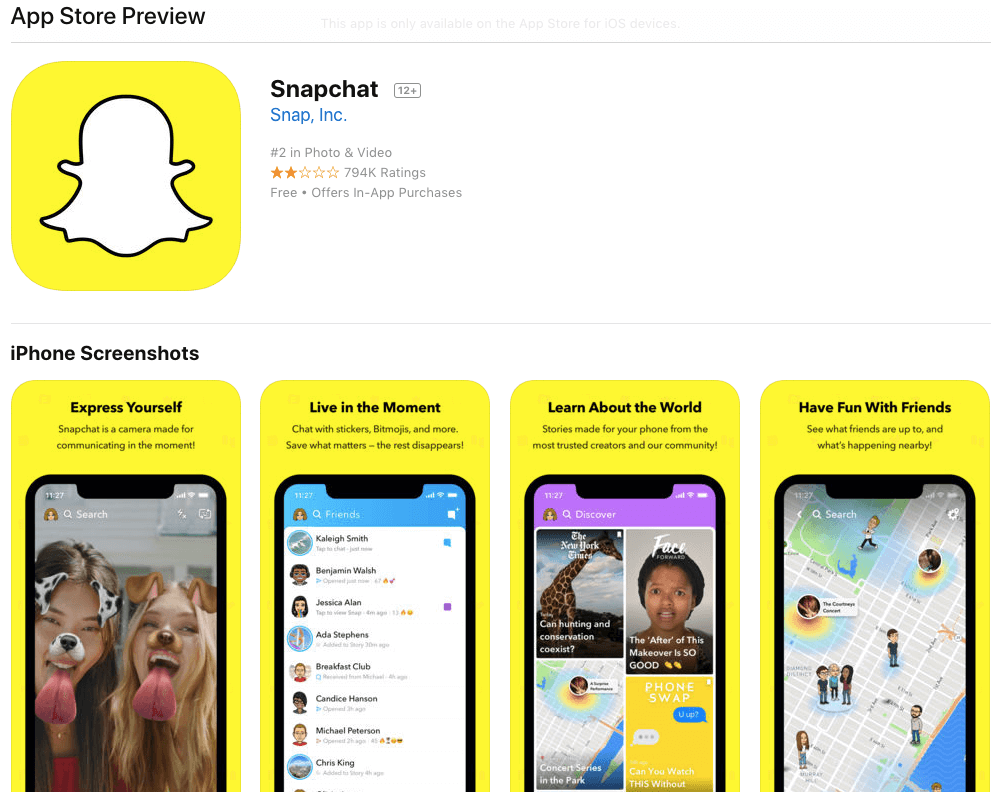 What Snapchat first looked like in the App Store in 2011 when it was first released:
The 3 first app store reviews that Snapchat ever received (in 2011):
Who created Snapchat?
Evan Spiegel

Bobby Murphy

Reggie Brown
Who was the first person to use Snapchat?
The first person to use Snapchat besides the creators of the app is not known at this time.

However, the first person to leave a review in the app store appears to be 'Clabie1869' (as seen in the image above).
What the Snapchat app looked like when it was first released to the public in the spring of 2011:
History Of Snapchat:
Snapchat Timeline From 2011 to 2019
When did Snapchat start?
Snapchat is released in the App Store in the living room of Evan Spiegel's father's home in July 2011.
However, Snapchat was originally named "Picaboo" until the founders were sent a cease-and-desist from another company who had already trademarked the Picaboo name.
Snapchat launches their app in the Android Store
Snapchat launches 'Stories'
Around two years after Snapchat launched, Mark Zuckerberg attempted to buy Snapchat for 3 billion dollars in November of 2013.. but his offer was refused.
Snapchat first introduced Geofilters to the public in August 2014.
40% of adults in the United States were using Snapchat on a daily basis.. and the rest is history.
When did snapchat filters come out?
Snapchat introduces 'Discover' and 'Lenses' (also known as filters) in January 2015.
Snapchat hits around 75 million users
When did snapchat streaks come out?
Snapstreaks came out on March 29, 2016, in Snapchat's 'Chat 2.0' app update.
Google offers to acquire Snapchat for a reported 30 billion dollars in May of 2016.. but is rejected.
Snapchat hits 150 million daily active users
Snapchat introduces 'Memories' and 'Bitmojis'
Instagram launches 'Stories'
Snapchat rebrands to 'Snap Inc.', parent company to Snapchat and Spectacles
Snap Inc. goes public
Snapchat changes the Stories feed to an algorithmic feed
Snapchat reverts back to reverse-chronological Stories feed after harsh backlash.
Snapchat hosts the first ever Snap Partner Summit